What We Can Do
From the standpoint of staffing, C & M Contractors, Inc. is in a rare position of which we are very proud. Our field teams are led by superintendents who have experience in all of our areas of expertise. These supervisors, as well as our quality control personnel and every member of our field staff, are people who we are proud to have as representatives of our company. Dedication to careful recruiting and training has led to an employee base that works well together, both as a company and with the other groups involved in each project. In an industry where finding and keeping quality personnel is so difficult, we have assembled a team which we believe rivals any out there.
We also feel that our corporate staff has the talent and ability to execute the estimating, building, tracking, and finishing of a project. Melinda Vaughn has over twenty years of experience in the construction industry and serves as President as well as handling the financial end of the business and knowing what our work consists of in the field.  Charlie Bass has more than forty years of experience in the construction industry and serves as Secretary-Treasurer, but he is very involved in project management, estimating, purchasing, and bidding the work. 
Our main goal for each project is to complete quality work in the most efficient and safe manner possible. We work hard to coordinate our work with the other entities involved on the job site. For the betterment of the project, we feel that it is important to look further than our own work. It improves the quality and profitability level of the project for all involved and makes a better working relationship throughout the entire scope of the project. Safety and quality are high priorities for our company. The Majority of our employees are currently QC, CPR/First aid, or Site Safety Health certified. 
C & M Contractors in the News
Nimmons Scour Repair Project Final Inspection
On Jan. 16, the Memphis District conducted its final inspection of contracted work on the Nimmons Scour Repair Project. The project repaired a scour that occurred near the west bank (right descending) of the St. Francis River Levee in Clay County, Arkansas. Work on the $237,000 project was completed by C&M Contractors and managed by the Memphis District in partnership with the St. Francis Drainage District.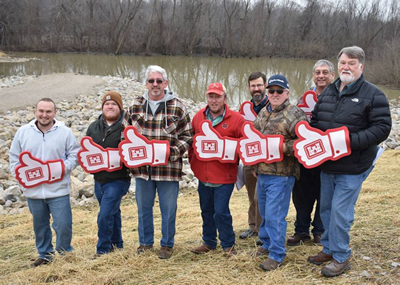 IN THE PHOTO: From left to right, Memphis District's Bryan Putt, Jacob Allen, and Jack Ratliff; Shaun Bass, C&M Contractors; Josh Giannini, Memphis District; Charlie Bass, C&M Contractors, J.R. Holloway, Memphis District, and Steve Kuykendall, Memphis District together give the project a thumbs-up.